Buy the Book

Select from three options: hardback, e-book, or bundled print/e-book.
[U.S. orders] | [International orders]
Bush Medicine of the Bahamas is available for $45.00 (shipping and tracking included) anywhere in the U.S. Your book will be shipped via USPS Media Mail which usually takes 2 to 6 days to arrive depending on distance. Orders are shipped twice a week, typically on Tuesday and Friday. Note: When you place an order your order there may be a delay in your order confirmation because all orders have to be approved before shipment. Typically this occurs within 12 hours or less, but sometimes may take longer.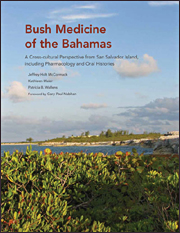 Note: This richly illustrated, cloth-bound hardcover, book is a $75 value! That would be the retail price had we not published it ourselves with generous research grant assistance that covered a portion of the high quality pre-press preparation and printing costs. Includes 161 photographs (104 in color, including 26 pages of color plates showing 103 medicinal plants, some with photo insets showing fine detail).
Profit from book sales is reinvested on-going bush medicine research on South Andros, Bahamas.

---
International Orders
For orders shipped outside the U.S., see international orders.